Quote of the week

"Ik ben dan nog misschien niet zo oud, maar ik voel me wel heel, heel erg belegen."

("I may not be old, but I do feel very, very stale.")

By

Anouk Verschuur

Episode

Fourty (2.06)

Situation

Anouk is unhappy with turning fourty, and explains her misery at dr. Rossi's.
Welcome to Gooische vrouwen Wiki!
[
]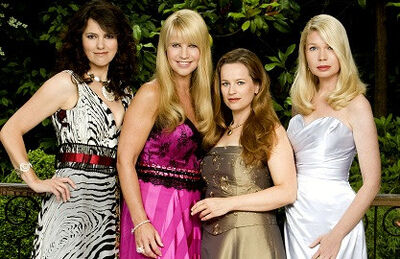 Gooische Vrouwen Wiki is an encyclopedia about everything related to the best Dutch tv-series, Gooische Vrouwen! Find out everything about Claire, Cheryl, Anouk, Willemijn, Roelien and all of their friends, husbands, and many more.
Don't forget to take the ultimate Gooische vrouwen Personality test, to find out which one of the women you are most like! Check it out at Personality quiz.
Welcome to 't Gooi...
[
]
Gooische Vrouwen is a tv-show about four friends from Gooi, Dutch region of rich people. They have to deal with problems of well-being and richness.

One of them, Cheryl, is married to Dutch singer Martin Morero and she moved from Amsterdam to 't Gooi. Another one, Anouk, is an artist and mostly makes erotic art. Third one, Willemijn, is married to Evert, but their marriage is reserved and without any sex, though they have children. Last one is Claire, a lawyer, who's married to Anton. They have 15 years old daughter, Merel.
Cheryl is newcomer to Gooi, but Anouk, Willemijn and Claire are born there.
Jump to...
Last episode

The Moreros, beginning of the end

Season

5

Episode

The End (5.08)

Synopsis

The financial crisis of Martin and Cheryl are critical, and Claire only sees one way to fix it. Dirk demands Claire to solve the problem between her and her daughter. Aunt Cor seems to have an admirer.
Featured article
[
]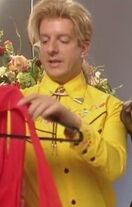 Yari
Yari, a gay fashion stylist, is a queery guy who we get to know in the first episode of the fourth season. He starts to reside in 't Gooi after season 3, where he meets his old friend Cheryl Morero, and they move on having both a personal and a businesslike relationship. Yari often has a managing role in Cheryl's personal projects, like the launch of her new perfume, Cheryl no. 5. He also offers his assistance in particularly helping people to improve their (clothing)style and looks.

Yari is a very sarcastic and assertive person, who has no trouble snapping at people when something does not happen the way he wants it to. He does not mince matters. He is also a very groovy, extravagant and fashionable man. He turns into completely different characters throughout the series, by wearing afros, dreadlocks and much more types of hair/clothing styles. He has his own saloon in 't Gooi. Cheryl is his best friend there, and he also gets along well with her friends. However, he sometimes gets on their nerves by his queeriness, especially with Claire.
Check out Yari's full story at his character page.
[

]